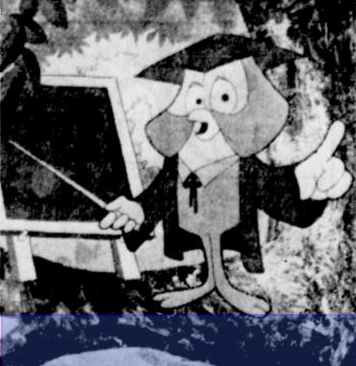 We know that there is a large gap between the evidence of how medications should be used, and what happens in practice.
It is estimated that between 2 and 3% of hospital admissions in Australia are medication related.
What can we do about it?
In a study published this month in the MJA, Gillian Caughey and colleagues looked at the prevalence of suboptmal medication management in 164,000 patient admission over 5 years. They have developed evidence-based medication-related indicators of suboptimal processes of care before hospitalisation that are specific to the Australian health care setting.
Using these indicators, 25% of admissions were preceded by suboptimal medication management.
This paper recommends that routine prospective monitoring of these clinical indicators would provide a means for quality improvement in the management of common chronic conditions.
I can feel a collaborative coming on.
Suboptimal medication-related quality of care preceding hospitalisation of older patients | Medical Journal of Australia
Read More
Arthroscopy for degenerative meniscal tears in middle aged patients is a common procedure. Does it help?
No, not significantly, according to a recent systematic review in the CAMJ.
There was a short term functional improvement that was not considered to be a 'minimally important difference'. There was no difference in pain (short or long term) and no difference in long term function.
Conclusion
There is moderate evidence to suggest that there is no benefit to arthroscopic meniscal débridement for degenerative meniscal tears in comparison with nonoperative or sham treatments in middle-aged patients with mild or no concomitant osteoarthritis. A trial of nonoperative management should be the first-line treatment for such patients.
Read More
Shared Decision Making has three main objectives :
patients who are, to the extent they desire,
well-informed about options relevant to the decision they are making,
helped in clarifying what matters most to them about the decision, and
involved in the process of decision making.
The Evidence Communication Innovation Collaborative (ECIC)' of the Institute of Medicine has published a paper that explores ways to improve the communication and understanding of evidence important to decision-making in health care.
It has been more than 30 years since the President's Commission urged the adoption of shared decision making (SDM) as a means to reform physician-patient communication and to improve the day-to-day implementation of meaningful informed consent to medical treatments.

When it comes to health care, patients' preferences and values are routinely left out of important discussions between provider and patients about treatment choices. Many patients' interactions with clinicians remain unchanged from their parents' generation, and clinicians too often still emerge from health care training oriented to a paternal model for patient-physician communication.
The aim of this paper is 'to suggest a set of concrete actions that could help break the logjam and facilitate implementation of patient decision aids as a routine part of clinical practice.'
The key suggestions are:
1. Certify decision aids.
The information provided to patients facing health decisions should be objectively evaluated to ensure that it:
Meets a high standard for medical accuracy and completeness; 23
Effectively communicates key messages to a range of patients and meets standards for patient (and clinician) usability and acceptability;
Presents up-to-date information about the relevant pros and cons of all reasonable options;
Presents these options in a fair and balanced way, free of influence from special interests; and
Contains other features of decision support that evidence shows can provide significant assistance to patients facing decisions and their clinicians.
2. Set quality standards for shared decision making.
SDM measures should have the following properties:
Include measures of how informed patients are about their options, what matters most to patients, and the extent to which patients are involved in the decision-making process.
Measures of knowledge have to be specific to the particular decision.
Because of the wide variation in the types of and approaches to medical decisions, any measurement aimed at comparing provider quality ought to target similar clinicaldecisions among similar patient groups.
3. Use health IT to support SDM.
Identifying decision windows;
Offering patients opportunities to request and receive information at the time and in
the format they desire;
Ensuring that information provided to patients is of high quality;
Giving patients convenient and reliable ways of exploring and communicating their
goals, concerns, and preferences relevant to the problems and conditions they face; 24
Providing an easy and reliable way for patients to let their providers know about their goals, concerns, and preferences;
Providing appropriate support materials tailored to clinicians; and
In the future, informing patients about the extent of a provider's use of SDM.
4. Expand the role of employers/payers in promoting SDM.
The paper and references are available here
Read More
Last year taxpayers spent A$6.3 billion on GP services through Medicare, about 6% of the total government health expenditure.
The authors of the Bettering the Evaluation and Care of Health (BEACH) program published in the Conversation their assessment of whether this represented good value for money.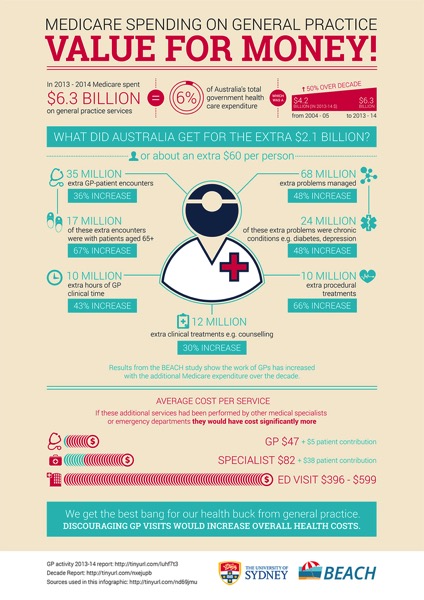 Their conclusion, as outlined in the infographic above, is that
We get the best bang for our buck from General Practice.
Discouraging GP visits would increase overall health costs
This supports our calculation that
The cost of one admission to a public hospital is more than the cost of 15 years worth of GP consultations

It is cheaper to pay for someone to see their GP every week for a year then it is to pay for them to be admitted to hospital for just one day.
Read More
The Royal College of Pathologists of Australasia (RCPA) this month has unveiled new guidelines to reduce Inappropriate Pathology Requesting in Australasia.
The Top 10 recommendations are :
Do not perform surveillance urine cultures or treat asymptomatic bacteriuria in older patients unless there are urinary tract signs and symptoms.
Do not perform population-based screening for vitamin D deficiency.
Do not perform PSA testing for prostate cancer screening in men with no symptoms and whose life expectancy is less than 10 years.
Do not perform routine pre-operative screening tests for low-risk surgery.
Do not perform IgG4 allergy tests, total IgE (or indiscriminate batteries of IgE tests) in the investigation of allergy.
Do not perform heavy metal tests for non-specific symptoms in the absence of exposure.
Do not test for Lyme disease for non-specific symptoms in the absence of exposure (travel to endemic areas).
Do not perform serum tumour marker tests except for the monitoring of a cancer known to produce these markers.
Do not routinely test and treat hyperlipidaemia in those with a limited life expectancy.
Do perform high sensitivity D-dimer assay in outpatients rather than imaging to exclude venous thrombo-embolism in patients with a low clinical probability.
The guidelines are available to download here
Read More